---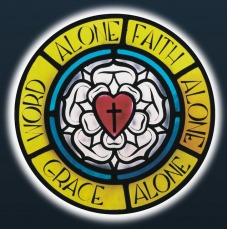 What Do Lutherans Believe?

We Believe That God is The Holy Trinity

God is three persons in one divine being. We believe that God is the Father, the Son, and the Holy Spirit.


We Believe That The Bible Is The True And Inspired Word of God

We confess all people are sinners. We live in a fallen world that has been ruined
by Adam and Eve's rebellion against God.


We Believe That God The Father Sent His Son To
Rescue And Restore a Fallen Creation

God is love. He offers forgiveness and eternal life as a free gift to all people. "For God so loved the world that
he gave his one and only Son, that who-ever believes in him shall not perish but have eternal life."
(John 3:16)


We Believe That The Word Of God, Holy Baptism And
The Lord's Supper Are The Means By Which God Delivers His Gifts To Us

The Holy Spirit works through these means of grace to strengthen our faith. Our congregation comes
together as brothers and sisters in Christ to worship, to pray, to receive Holy Communion, to learn God's Word
and to have Christian fellowship.


We Believe That Christian Education Is Important, And
We Provide Many Opportunities To Grow In God's Grace

We offer Sunday School, weekday Bible Studies, Youth and Adult Catechism classes,
Vacation Bible School and a Lutheran Preschool Program.


We Believe That We Are Called To Love Other People
In The Same Way God Has Loved Us In Jesus Christ

Empowered by the Holy Spirit, we seek to reach out to all people with the love of God. We seek to
serve our Lord by humbly serving other people.